Appstore Walkthrough
What is the Pebble appstore?
The Pebble appstore is a quick and easy way to find Pebble apps and watchfaces right from the Pebble app on your iOS or Android device. You'll be able search for apps by categories including Daily, Remotes, Games, Notifications, Tools & Utilities, Sports & Fitness, and Watchfaces. Each category will feature highlights of the best rated apps, Pebble staff picks, and most recently added.
---
Introduction
Finding Watchfaces and Watchapps
Managing Watchfaces and Watchapps
Using the App Locker
Cost
Companion Apps
​Watchapp Issues
Appstore Issues
---
Introduction
With our new 3.0 software, you'll be able to store and access dozens of watchfaces and apps directly on your Pebble Time. The number of apps it can hold will vary depending on their size and function. Any apps that cannot be immediately stored on your Pebble Time will automatically be added to the "My Pebble" section of the mobile app. Your smartwatch will begin at the top of each section of "My Pebble" (Watchfaces and Apps / Timeline) and store as many apps as it can until it cannot fit any more.

"My Pebble" is linked to your Pebble account (the email that you used to set up your mobile app). This means that your favorite apps will be ready for you on any device that you sign in to.

When you first log in, there will be several default apps that we have already provided: Calendar, Weather, Notifications, Music, Alarms, and Music. You will also have our default watchface called Enigma and any other watchface you chose during your initial app set up.

There are more details below about how to find and manage your Pebble Time watchfaces and apps below. As you add more to your account, they will appear at the top of the list in "My Pebble" so that they are loaded on to your smartwatch. To rearrange your your watchfaces or apps, in "My Pebble", press and hold the app for 1-2 seconds, then drag it to the preferred position.

Once used, the apps are cached on your watch. This means that the apps you have recently used, your selected watchface, and apps that run in the background will be available to you even if you disconnect from your phone.

Similarly, our Timeline feature will sync for approximately 48 hours -- 24 hours into the past and 24 hours into the future -- so you can continue to access it if disconnected. For more information about Timeline, please click here.

Please note: some watchfaces or apps will require access to information or services provided by your phone, such as location data. If you did not grant permissions to these features during set up, any apps that are reliant on it may not function correctly.
---
Finding Watchfaces and Watchapps
To find amazing new apps for your Pebble, launch your Pebble app and select the type of app you're interested in (Get Watchfaces or Get Apps). Once you're in the correct section, there are three ways that you can find apps that will appeal to you the most:


1) Searching by name or keywords
In the top right of the appstore, there is the option to do a general search. Simply tap the SEARCH button, then select the type of app you'd like to look for (Watchfaces or Watchapps), and type any keywords about what you're interested in.
​

Tap the results to find out more about the app. If it's what you're looking for, you can add it to your watch and account directly from the information page. If it's not what you were hoping for, then simply hit the back button and continue your search.

2) Search by popularity or new additions
We've made searches even easier by highlighting public favorites, Pebble staff favorites, and new additions for each category.


3) Search for Watchapps by category
We've divided watchapps into six categories for better organization. This means that you'll be able search for apps by categories including Daily, Remotes, Games, Notifications, Tools & Utilities, Sports & Fitness, and Watchfaces.

​​
---
Managing Watchfaces and Watchapps
Adding apps

First, make sure that your Pebble is successfully connected to your iOS or Android device.
The status will show in the top left corner of the mobile app's main menu; if it says "Disconnected" simply tap there to reconnect.
Once you are connected and you find one you like, tap the app to view its information page. Then tap the "ADD" button near the top.

The app will load itself on to your watch and appear in the "My Pebble" section of the Pebble app.
With our new 3.0 software, we've done away with our 8 app limit. You can expect your Pebble Time to hold dozens of watchfaces and apps, with any excess apps to be stored in "My Pebble" for convenient future access.

Changing apps
To view downloaded watchfaces, select "My Pebble" from the main Pebble App menu.
If you have more apps there than can be stored on your Pebble Time, you will need to re-organize the menu to decide which ones can be launched by your watch.

To rearrange your your watchfaces or apps, in "My Pebble", press and hold the app. Within two seconds, you should be able to drag the app to a new position. Re-position the desired app above the last app that is listed on your Pebble Time if you would like for it to be accessible from your watch.
Removing apps
As mentioned above, you can change the watchfaces and apps available on your Pebble Time by rearranging their order in "My Pebble", with the ones most important to you towards the top. Accordingly, if you would like to remove an app from your Pebble Time, simply drag the watch towards the bottom of the list.

Deleting apps
If a watchapp has been added to your account that you don't like, it is easy to delete it completely. Simply find and tap the undesired app listed in the "My Pebble" section. When the pop up appears, the option to Delete will appear near the bottom. Tap that and confirm that you would like to delete it from your account.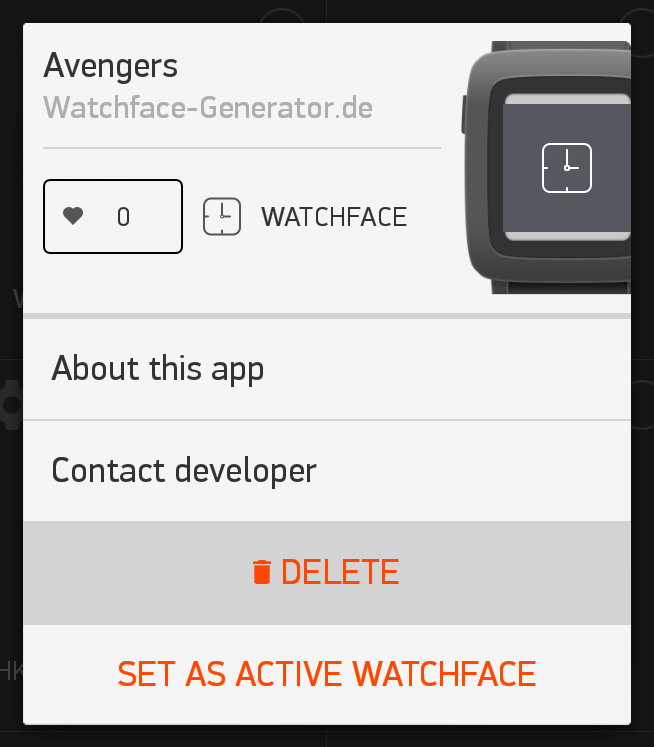 ---
How much do Pebble apps cost?
At the moment, the Pebble appstore does not support paid applications. However, developers can submit applications to our appstore that require companion apps from Google Play or the Apple Appstore, in which case the price of the companion is under their discretion and will be listed in the appropriate app store.

Back to the top

---
​What are Companion Apps?
Some apps for Pebble Time require an additional download of a companion app from the Google Play Store or iTunes App Store to function properly. In some cases, such as RunKeeper, you won't need to download a watchapp for Pebble at all; simply download the companion app on your phone and it will work seamlessly with Pebble.

If a watchapp you find in the Pebble appstore requires a companion app to work, we will link you directly to the external download.

Back to the top

---
If you find an app that is causing problems please notify the app developer from the Pebble app store. Simply search and select the troublesome watchapp from the store, and scroll to the bottom. There will be the option to "Email Developer For Support."


​If you are not able to load the watchapp or it is causing your Pebble to crash please submit the details of the issue you are experiencing so that our team can investigate.
---
Appstore Issues
If you experience an issue with the Pebble appstore, please let us know!
While you wait for us to investigate and correct the issue, we recommend restarting the Pebble app on your phone. We've found that most bugs can be resolved, at least temporarily, by hard-closing and relaunching the Pebble app.

Here are instructions about how to force an app closed:
How to force an iOS app to close
How to force an Android app to close

Back to the top
---