Classic Accessories
Original Pebble Bands
The Jet Black Classic Pebble ships with a black latex-free, polyurethane band that has a stainless "surgical" steel clasp (approximately 8-10% nickel). It can accommodate wrists with a circumference between 14cm and 21cm.

The original Pebble's bands are 22mm wide and secured by collapsible spring pins. They can easily be exchanged for most standard 22mm bands, available online or in stores wherever watches or watch accessories are sold.

There are third party websites, such as Clockwork Synergy or Richard Tracy Brand that may sell watchbands for Pebble.

For instructions about how to change the Pebble's bands, please click here.

---

Pebble Steel Bands
Pebble Steel ships with a black leather band. It is 8-1/16 inches or 205 mm and made of Genuine bovine hide grain leather.
Optional metal band may be available for purchase through retailers such as ​ Amazon.com or Best Buy USA.
There are third party sites such as Clockwork Synergy or the Richard Tracy Brand's SHANK that may also have bands for Pebble Steel.

For instructions about how to change Pebble Steel's Bands, please click here.

---
Charging Cables
Each version of Pebble has its own special USB cable, which attaches magnetically to the charging port on the left side of your Pebble below the back button.

Due to the the Original and Steel charging cables are not cross-compatible.
The picture below will help you distinguish between the two, to make sure that you use and purchase the correct one for your Pebble.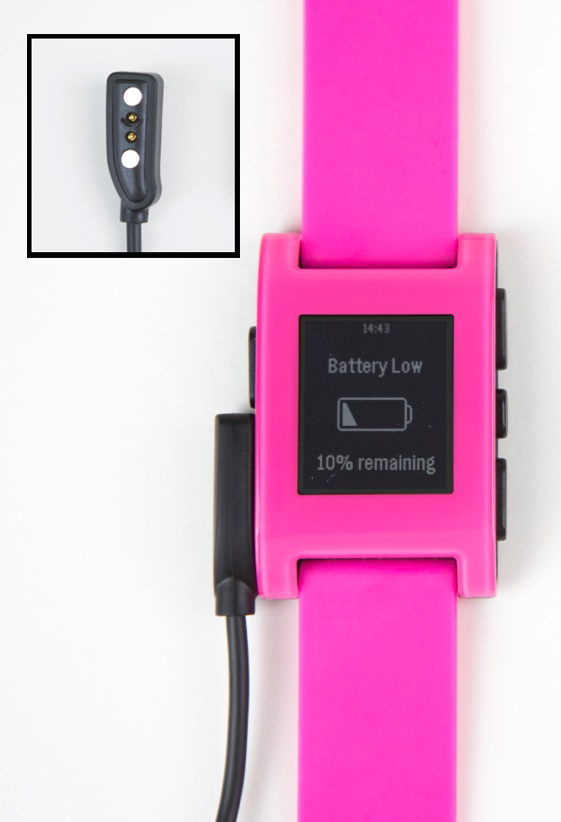 ​
---
Third Party Skins
One of the easiest ways to customize the appearance of your Pebble is to apply a skin.
There are several third party websites that sell designs and protective covers for Pebble. These designs include colors, textures, flags, animal or wood patterns, metal finishes, and even glow-in-the-dark.

To browse and purchase skins and covers, please visit GadgetWraps, Skinomi, SlickWraps, or DecalGirl.
Or, if you would prefer a 3D printed, snap-on cover, check out Pebble Watch Covers.
---