Managing Watchapps
Adding apps
First, make sure that your Pebble is successfully connected to your iOS or Android device.
The status will show in the top left corner of the mobile app's main menu; if it says "Disconnected" simply tap there to reconnect.
Once you are connected and you find one you like, tap the app to view its information page. Then tap the "ADD" button near the top.

The app will load itself on to your watch and appear in the "My Pebble" section of the Pebble app.
With our new 3.0 software, we've done away with our 8 app limit. You can expect your Pebble Time to hold dozens of watchfaces and apps, with any excess apps to be stored in "My Pebble" for convenient future access.

Changing apps
To view downloaded watchfaces, select "My Pebble" from the main Pebble App menu.
If you have more apps there than can be stored on your Pebble Time, you will need to re-organize the menu to decide which ones can be launched by your watch.

To rearrange your your watchfaces or apps, in "My Pebble", press and hold the app. Within two seconds, you should be able to drag the app to a new position. Re-position the desired app above the last app that is listed on your Pebble Time if you would like for it to be accessible from your watch.
Removing apps
As mentioned above, you can change the watchfaces and apps available on your Pebble Time by rearranging their order in "My Pebble", with the ones most important to you towards the top. Accordingly, if you would like to remove an app from your Pebble Time, simply drag the watch towards the bottom of the list.

Deleting apps
If a watchapp has been added to your account that you don't like, it is easy to delete it completely. Simply find and tap the undesired app listed in the "My Pebble" section. When the pop up appears, the option to Delete will appear near the bottom. Tap that and confirm that you would like to delete it from your account.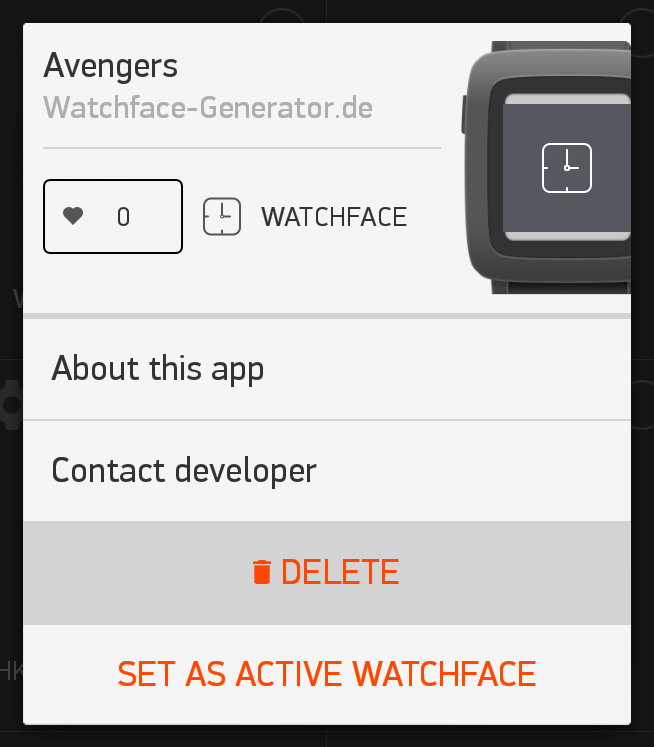 ---