Get Started with Android
Within this guide, "Pebble" will refer to any Pebble smartwatch connecting to the Pebble mobile app, including the original Pebble, Steel, Pebble Time, Time Steel, Time Round, and Pebble 2.
---
Step 1:
Charge your Pebble

​Charge your Pebble during set up to get the most out of your first use.

While charging, press and hold the back button (single button the the left side) for 3-5 seconds to turn on your watch.

---

Step 2:
Download the Pebble app
​

The Pebble mobile app is required for Pebble Time smartwatches and to upgrade a classic Pebble to the latest software.

Search the Google Play Store for "Pebble" or click on the image below for a direct link.
​
---

Step 3:
Enable the Bluetooth on your phone
Turn on the Bluetooth in your phone's Bluetooth settings.

​
---

Step 4:
Launch the app, select your watch, and create an account
Launch the Pebble app. ​

Find your watch model, and then tap the picture.
If you're a new Pebbler, select the "Create Account" option. For more information about Pebble Accounts, please click here.


If already have an account with us, fill out your email and password and sign in. Please read the License Agreement and press Agree to continue.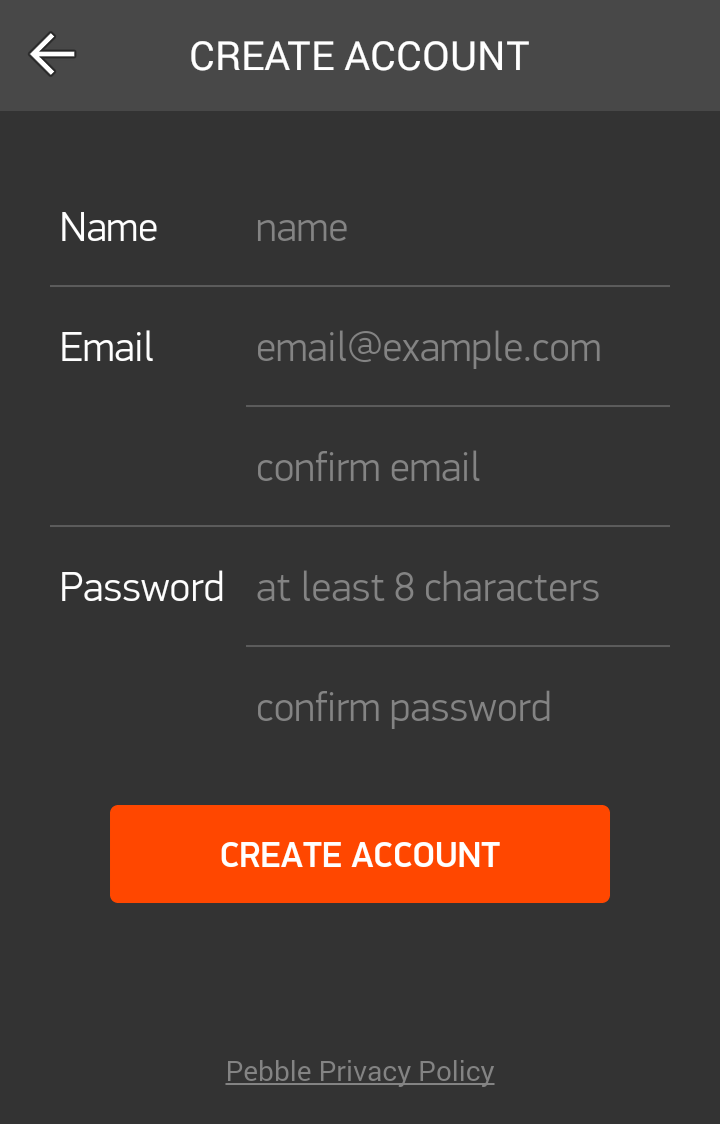 ​
---

Step 5:
Choose a Voice Language
Select a Voice input language.

This will prepare Voice (verbal responses using the microphone) for your accent and spoken language.

This language can be different than your app or smartwatch display language.
​
Please note: Classic Pebbles (the original Pebble and Pebble Steel) do not have microphones and will not be able to use Voice replies or apps that require Voice input.

---
Step 6:
Pair your Pebble via Bluetooth
Tap "Find a New Pebble."

Available Pebbles within 30-50 ft of your phone will be listed for pairing.

Select your watch when you see it listed on the screen.

If you need help figuring out your Pebble's identifier, please

click here

.
A pop-up will appear asking you to confirm the pairing. Tap "Pair" in the app, and press the Up button (the top button on the right-hand side) on your Pebble to confirm the connection.
​
---

Step 7:
Basic set up
Once successfully paired, the app will walk you through some basic set up:
​​Checking for and downloading updated firmware

Granting notification access


Setting the language for your menu items, incoming notifications, and messages

Granting calendar, push notification, and location data access**

Granting Pebble insights and health access

**Please Note: ​Some of the watchapps and Pebble features rely on access to this data such as location and will not be able to function properly without it.

---

​Step 8:
Enjoy and explore!
Y

ou are now set up and ready to explore the your Pebble app!

T

ap the orange

circle

in the bottom right corner of your Watchfaces or App / Timeline screen to

browse our appstore.

To set up your notifications, click here.

For additional notification features, please download and install the

Android Wear app

. Simply installing it (you do not have to set it up) will expand your actionable notifications for Google apps such as Hangouts and Gmail.
---