Android Pebble Time Essentials
Managing Apps
Pairing and Connecting Pebble
Testing a Connection
Forget a Pairing
Reboot
Recovery Mode
Factory Reset
Recovery Mode VS Factory Reset
---
Adding apps

First, make sure that your Pebble is successfully connected to your iOS or Android device.
The status will show in the top left corner of the mobile app's main menu; if it says "Disconnected" simply tap there to reconnect.
Once you are connected and you find one you like, tap the app to view its information page. Then tap the "ADD" button near the top.

The app will load itself on to your watch and appear in the "My Pebble" section of the Pebble app.
With our new 3.0 software, we've done away with our 8 app limit. You can expect your Pebble Time to hold dozens of watchfaces and apps, with any excess apps to be stored in "My Pebble" for convenient future access.

Changing apps
To view downloaded watchfaces, select "My Pebble" from the main Pebble App menu.
If you have more apps there than can be stored on your Pebble Time, you will need to re-organize the menu to decide which ones can be launched by your watch.

To rearrange your your watchfaces or apps, in "My Pebble", press and hold the app. Within two seconds, you should be able to drag the app to a new position. Re-position the desired app above the last app that is listed on your Pebble Time if you would like for it to be accessible from your watch.
Removing apps
As mentioned above, you can change the watchfaces and apps available on your Pebble Time by rearranging their order in "My Pebble", with the ones most important to you towards the top. Accordingly, if you would like to remove an app from your Pebble Time, simply drag the watch towards the bottom of the list.

Deleting apps
If a watchapp has been added to your account that you don't like, it is easy to delete it completely. Simply find and tap the undesired app listed in the "My Pebble" section. When the pop up appears, the option to Delete will appear near the bottom. Tap that and confirm that you would like to delete it from your account.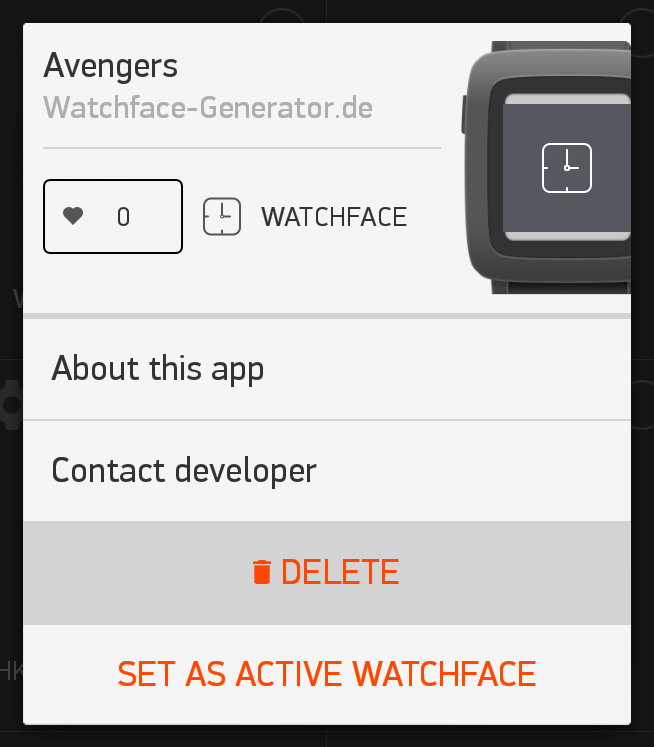 ---
If you have never paired your Pebble before, please follow our Getting Started guide.

Please note: If you are having a problem with watchapps not connecting, could you please make sure that the Pebble app is connected and running in the background of your phone? Watchapps, particularly those running on Javascript, will not be able to collect and relay the data they need if the Pebble app is not running.
Otherwise, launch your Pebble Android app
. If your Pebble Time is not connected, there was be a banner saying "Tap to connect your Pebble" at the bottom of the My Pebble section of your app. Tap it to attempt to reconnect it.

A list will generate showing the devices available for pairing and connecting. Find and select your Pebble. If it has been previously paired, it will connect automatically.
If your Pebble does not appear the first time, please try again by pressing the "Find a new Pebble" option at the bottom. If it does not appear after a second try, please go into your phone and Pebble Bluetooth settings to unpair all BT devices. Instructions to unpair can be found below.

If your watch is not paired with your phone, you will need to confirm on your phone and on the Pebble Time itself that you would like these two devices paired.
​
​
Pebble should then automatically connect to your Android device. If it does not, tap the status in the top left corner of the app to make the connection.

---
One way to test that your Pebble is correctly connected to your Android device is by sending sample notifications to your watch.

​To do this, launch your Pebble app, tap the support button at the bottom of the app menu, then tap Test Notifications. You will have the option to send a sample Text Message, Phone Call, or Email to demo your watch.

Once you are finished with test notifications, hit the back button on your Android to return to the support menu.
If you have already paired Pebble with one or more devices, your attempts to connect on your Android may be blocked by a previous pairing trying to re-connect or if a severed connection did not fully register on one of the devices. Please unpair / forget the pairing from each device.


To unpair devices, follow this path on your Pebble Time: Main menu > Settings > Bluetooth > [Device's name] > Forget.

To unpair Pebbles on your Android devices, go to Settings > Bluetooth > hold on [Pebble's identifier] or an icon to the right of it > Unpair.

​To make sure that your previous connection has been fully severed, please restart each device. To turn off your Pebble Time follow this path on your watch: Main menu >> Settings >> Bluetooth >> System >> Shut Down. To start it up again, hold the Back button (on the left side) for 3-5 seconds until the Pebble logo appears.

Once you have successfully unpaired and restarted each involved device, please try your pairing again.
---
If Pebble becomes unresponsive or is not showing the changes that you have recently made, please try rebooting it to see if that solves the issue. To reboot Pebble Time, simultaneously hold the back and select buttons until the the Pebble logo appears.

---
What is Recovery Mode?

Recovery mode is one of the earliest, most stable versions of firmware that we have for Pebble.
If your Pebble reboots three times or has unstable firmware, it will automatically go into Recovery Mode.

You can also trigger it manually by holding down the Back, Up, and Select buttons simultaneously for approximately 30 seconds; once the screen shows the Pebble logo and a progress bar you may release the buttons.


When should I use Recovery Mode?

You should always try our other Troubleshooting suggestions first, but if nothing else seems to help an issue you're having with Pebble software, then recovery mode is the way to go.

How do I get out of Recovery Mode?

To get out of Recovery Mode (return to the latest Pebble Time firmware), relaunch the Pebble app on your phone. The pairing should not have been affected, so your smartwatch will automatically reconnect with your phone. Once connected again, your Pebble Time will begin updating to the latest firmware. Once the update it complete, you're all set.
If you are still having trouble, please click here for the next troubleshooting steps.
---
What is Factory Reset?
Factory Reset restores your Pebble to factory setting (ie. it forgets pairings and removes apps and data you have stored on Pebble). Be very careful before you use it, because once Pebble has been reset, it cannot be undone. To restore your Pebble to factory settings, select Settings from the main menu, then choose System, followed by Factory Reset.
​

When should I use Factory Reset?
You should use Factory Reset whenever you feel like starting fresh with Pebble, or if you are going to re-gift or re-sell it, so that the new owner gets a clean Pebble.
---

Recovery Mode VS Factory Reset
What is the difference between Recovery Mode and Factory Reset?
The difference between the two is seen in your firmware and your apps. In Recovery Mode, your firmware goes back to an earlier version but your settings and apps remain on your watch. Conversely, in Factory Reset, your firmware is not effected at all, but all of the apps, connections, and data saved on your Pebble are removed.
---